Trinity Kitchen and Bath, LLC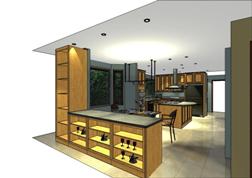 Booth: 720
13164 Centerpointe Way
Suite 201
Trinity Kitchen and Bath, LLC designs and supplies cabinetry and countertops primarily to the building trade, but also to the well qualified public. We utilize the industry leading 20-20 Design software to give our clients a clear visual perspective of the planned project. We proudly represent a select few national manufacturers including Woodharbor, KraftMaid, and Wolf Classic. Architects, Interior Designers, Design Build firms, remodelers, and homeowners are all welcome. We can file share on a .jpg, .pdf, .bmp, and .dwg basis. Samples are available and most commonly placed on site to assist in the selection process. Projects are measured and fit assured before product is ordered as a professional courtesy when conditions allow.

Please visit us at Booth #718 and inquire as to what specials are available during the show. Also, ask to see our CoreGuard sink base offering - it is a truly different and better product solution for the most damage prone area in the kitchen and bathroom. We offer both full access (frameless) and framed cabinetry, including inset with concealed and decorative hinges.

For more information please call 571.288.8065.