Meet Trading Spaces Newcomer Joanie Sprague
Feb 24, 2018, 21:09 PM
Joanie Sprague is joining the team of all-stars on TLC's revival of
Trading Spaces
. Joanie's home improvement skills have landed her a position as a carpenter on the show's return after a 10-year hiatus. Sprague was the runner up on cycle six of
America's Next Top Model
and has appeared on DIY Network's
Run My Renovation
and
Man Caves
.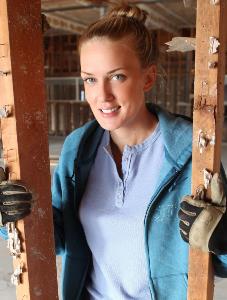 Joanie will be appearing LIVE at the Capital Remodel + Garden Show all weekend! Before you see her on the Main Stage sponsored by TD, enjoy our interview below.
Q: What is an easy DIY project homeowners can tackle to improve their space?

Joanie
: "An easy project someone could handle would be doing their closets. A lot of builders provide a basic rod and shelf closet with their standard closet builds, but most people need more space than that for their clothes/linens, etc. Unless you have a master closet going in, doing your own closet is easy! You can go to Lowes or another store and get closet systems that are either floor based and can sit right on top of your carpet, or wall hung and would only require a stud finder and a good impact driver. Simply create the design you need on paper first, measure out how much product you would need, purchase and install!


Q: If you had to move to another country, where would you go and why?
Joanie
: "It would be Portugal. We went there on our honeymoon and we fell in love with the countryside, the beaches, and the rich culture in the cities. Everyone there took so much pride in their work and every detail and design feature was photo worthy. Its a lovely place.

"

Q: What is something we wouldn't guess about you?
Joanie
: "I have some pretty strange hidden talents that involve making noises, but I can also speak some Hebrew!"
Q: What's acommon mistake homeowners make when doing projects themselves?
Joanie
: "Tearing out a wall and not knowing if it is load bearing or not. I see a lot of people just get crazy and start tearing out walls to open up rooms and a lot of time it can lead to big issues with structural damage. Always ask a builder or a engineer.

"
Q: Fill in the blank. The three things I can't live without are ___________.
Joanie
: "My impact driver, mascara, and coffee.


Q: What project are you most proud of?
Joanie
: "I would say building the bathrooms at our Crossfit gym. I helped build dressing rooms and install showers in our gym and its become a valuable part of the gyms daily use.

Q: What's one thing you wish every homeowner knew?
Joanie
: "Spending more upfront is usually going to be better in the long run with certain projects. Especially when it comes to wood. You should always opt for the best products and quality when doing your deck, and installing tile. Sometimes you can cut corners with cheaper materials but with these two things specifically, I would always get the best you can, so it lasts longer. Nothing stinks more than having to redo your deck prematurely."

Q: What decor items are worth splurging on?
Joanie
: "I think it's totally acceptable to spend a little extra on your window treatments. Cheap curtains are obvious (to me anyway) and I like to know that I have quality curtains that won't sun bleach over time, and have a classic look that goes with the room, even if I make decor changes.

"

Q: If you could upgrade my kitchen, bath, or closet which one would it be?
Joanie
: "I would upgrade my bathrooms. I just did my closets, and our kitchen is pretty good right now, but our bathrooms are old and have heavy sliding glass doors that are on the fritz!
"

Q: Could you live in a tiny home?
Joanie
: "I don't think so. My husband and I are pretty tall people. Our home would be larger by default! Lol"
The Capital Remodel + Garden Show is filling the Dulles Expo Center with hundreds of home improvement experts, including Joanie Sprauge, February 23-25.
Get tickets now
and start planning your visit. We can't wait to see you there!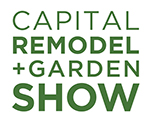 DULLES EXPO CENTER
FEBRUARY 23-25, 2018.