Get To Know Fixer Upper Carpenter Clint Harp
Feb 15, 2019, 18:21 PM
Headlining the Capital Remodel + Garden Show, happening February 22-24 at the Dulles Expo Center in suburban Washington, DC will be Clint Harp. He's best known as the talented carpenter on HGTV's
Fixer Upper
, where he solves all of Joanna Gaines' design quandaries and o, his new DIY Network show
Wood Work
. But he's also an author, having just released "Handcrafted: A Woodworker's Story" (Touchtone Books/Simon and Schuster), a memoir that shares his story of turning his passion into a career.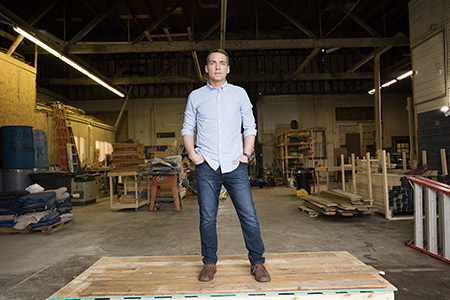 Clint will appear on our Main Stage on Friday February 22 and Saturday, February 23. Can't wait? The shiplap-loving, dumpster-diving carpenter took some time from his busy schedule to take some of our questions. Check out our brief interview below!
Question: What's an easy DIY project homeowners can tackle to improve their space?
Clint
: "A shelf! Find a cool piece of wood in your garage or in someone else's scrap pile and make a shelf! With some simple brackets from a home improvement store you can make a really fun shelf with very little effort."
Question: What's a common mistake homeowners make when they take on a home improvement project themselves?
Clint
: "Usually it's underestimating how much time and money it's going to cost…I've done it many times…Best bet is to add 30% on top of whatever you're guessing!"
Question: Where do you go online to find inspiration?
Clint
: "I actually have a weird thing about not looking online for inspiration…I look there for entertainment. My inspiration comes from memories and experiences where I can put my hands on something and see it in real life…a lot gets born from those moments for me."
Question: What's one thing you wish every homeowner knew?
Clint
: "That it's better to spend the money up front and get it done right than to take shortcuts…and if you don't have the money yet…live with what you have until you can afford the real deal."
Question: What's something that folks should watch out for when working with a contractor or interior designer?
Clint
: "I would say from my own experience I am more in tune with how I feel about working with somebody than anything. So if you give me two guys that can do quality work and one is cheaper but he/she feels wrong to me and the other is a bit more expensive but feels right and like a good person, I'm going with the more expensive person."
Question: What decor items are worth splurging on?
Clint
: "I'm biased but I would say all furniture. Ask around and the things that get handed down from generation to generation are tables and beds and dressers and benches and chairs…spend money on things that last and you will bless generations of people long after you're gone."
Question: What's your best organization hack?
Clint
: "Throw crap away!!!! We hold on to so much stuff that we just really don't need and we find ourselves organizing stuff we don't even need. Before you organize anything, go through everything and only hold on to the stuff that you truly, truly need and use."
Get more home improvement advice when you see Clint on our Main Stage at the Dulles Expo Center. Start planning your visit to the Capital Remodel + Garden Show. We can't wait to see you there!



FEBRUARY 22-24, 2019.
DULLES EXPO CENTER